The Morrison Formation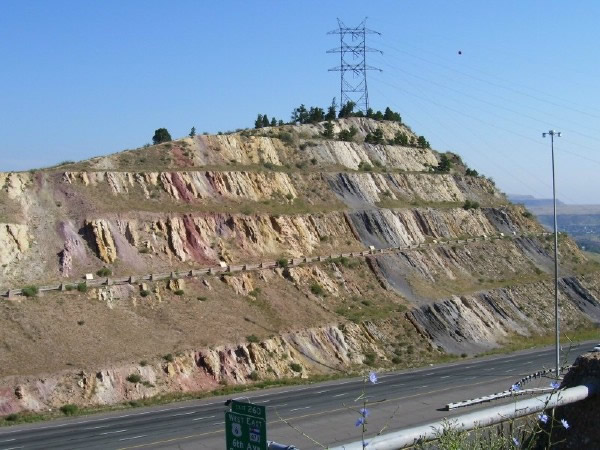 Maroon and grey-green claystones and mudstones, and red sandstones of the Morrison Formation (on the left) and the Dakota Group (Lytle Formation and South Platte) (on the right) - Interstate 70 roadcut throughDinosaur Ridge (Dakota Hogback) at the Morrison exit west of Denver.
About 150 million years ago the lagoon environment became one of freshwater lakes, fed by rivers and streams. The clay, sand, and lime sediment became the claystone, sandstone, and limestone of the Morrison Formation, seen in the photo above as the purple, red, and gray-green layers on the left. Formed between 150 and 140 million years ago, the Morrison Formation was the product of a flat land and a humid climate.[1]
Footnotes
(1) Andrew M. Taylor, Ph.D., "Guide to the Geology of Colorado," Cataract Lode Mining Company, (Golden, CO 1999), pp. 66-67;
Ralph Lee Hopkins and Lindy Birkel Hopkins, "Hiking Colorado's Geology," The Mountaineers, (Seattle, WA 2000), p. 86.
Kirk R. Johnson and Robert G. Raynolds, "Ancient Denvers: Scenes from the Past 300 Million Years of the Colorado Front Range," Denver Museum of Nature & Science, (Denver 2003), p. 12.